Project Overview:
One of the leading home furnishing brands in Barbados named Gajah Home had created a new furniture website and wanted to start a digital marketing campaign that would help them to establish themselves as the best in the industry. When they came to Black Marlin Technologies, their primary motive was to make customers find their website and help them to shop online.
Before us, the website had suffered from the architectural challenges that are handicapping their online growth. We have accepted the challenges that need to be immediately addressed before more damages are done to the website.
Our Strategies and Implementation:
We have implemented the below methods and strategies for proper Optimization of the website of Gajah Home.
● Competitor research and Analysis
We, at Black Marlin Technologies, took out the lists of the direct competitors of Gajah Home. This is a very significant step in creating a fruitful result that has helped the company to remain ahead of their competitors. That is why we analyze the latest top competitors of this well-known furnishing house and how well are they in their SEO efforts. We found out their weaknesses which we avoid during our strategic planning.
● On-Page Optimization
We thoroughly scrutinize every page of the official website of Gajah Home and make a note of every fault in the web pages. We made it easily navigable, engaging, and interesting to read. Our team also included some new exciting media to make it more enjoyable to the visitors. This led to an increase in the time spent by the customers through the on-page optimization services of the Black Marlin Technologies.
● Quality backlink building
The professional team of our company takes care of all the links that lead back to the website and their proper functioning. We have only made a listing of the Gajah Home website to the reputed and authoritative websites. This has resulted in the maintenance and creation of high-quality backlinks like Google Listing for the business.
The Result:
We have achieved 100% rankings on the first page of the search engines that have resulted in 300% of enhanced organic traffic to the website.
Google Analytics Report
Google Webmaster Tool Report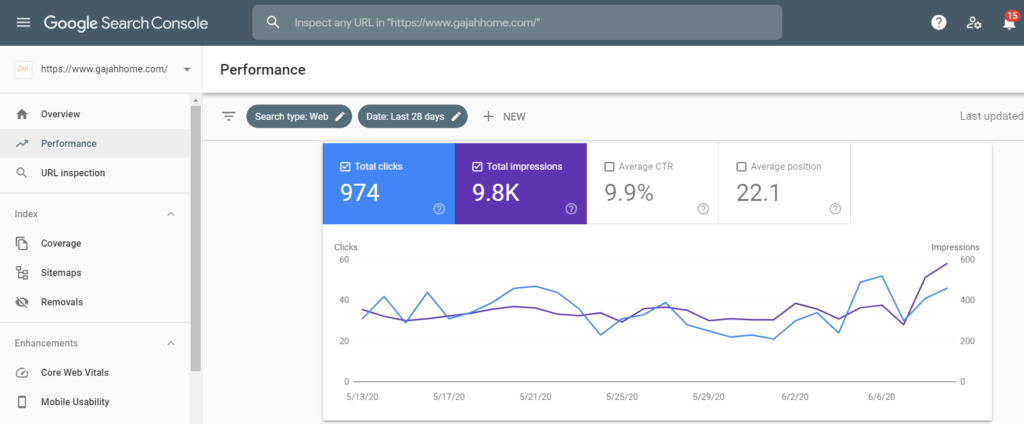 Google Rankings Report