From the past few years, we have witnessed tough competition in the field of digital marketing place. With this, it is important to keep an eye on the various aspects of digital trends. And the Education sector is one of the most vital sectors in which digital marketing trends can bring a change for good.
As we know that, from time to time we notice different updates or trends in this division. Thus, it is very important to focus on the higher education digital marketing trends that will help in revolutionizing the education industry for better. The digital marketing techniques and algorithms are changing at a fast pace and to stay ahead in this curve, you need to follow the mentioned below 7 higher education digital marketing trends for 2020. These marketing trends change the higher education setting with new communication channels to make new ways of learning.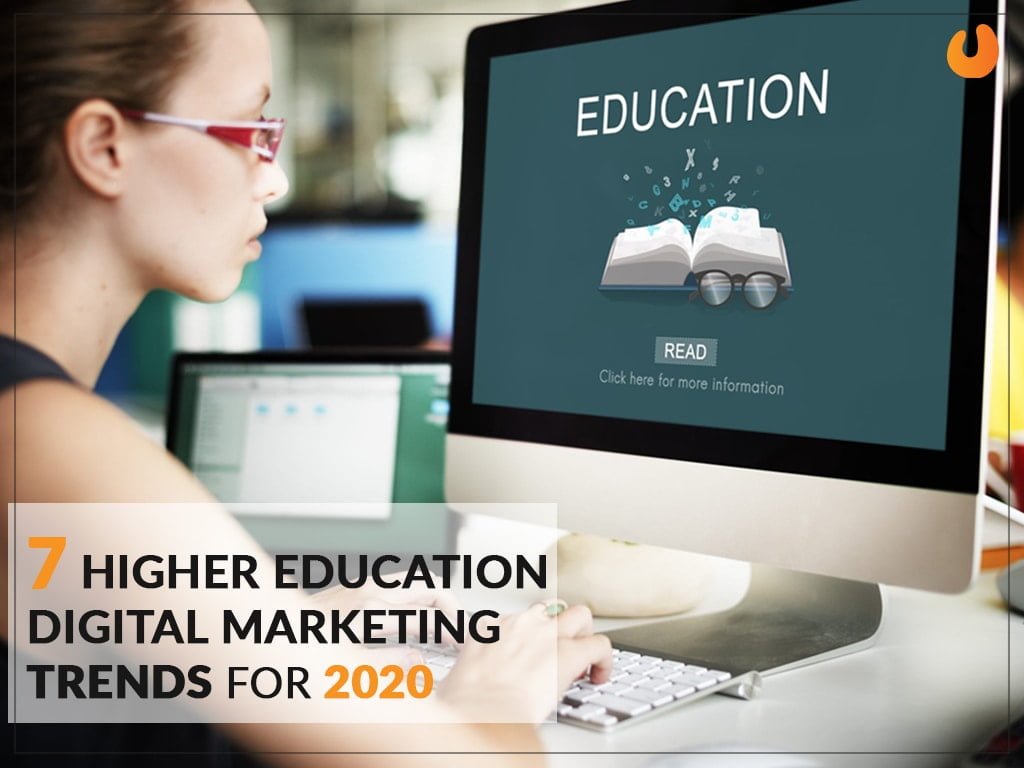 Here are our top 7 Higher Education Digital Marketing Trends for 2020 that keep you ahead in this stiff competitive curve.
Live video content will keep you ahead
Video marketing is still at the top position when it comes to transparency. Most of the higher education universities and colleges are trying to add live video content in their marketing strategy that will provide the students with complete details about the inside of the universities. In 2020 we will notice that universities are more & more experimenting on Facebook stories, Snapchat, Instagram Stories, Youtube videos to provide students with clear content that is important. Nowadays, students are looking for first-hand genuine view of what's happening at the university they are planning to get admission.
Social Media Content
Without any doubt, social media is an essential aspect of higher education that provides all the important resources to students. To engage your audiences you need more people to follow your social media channels and enhance your brand awareness. With the changing marketing trends, higher education institutes need to become an authentic brand. If you do not create a good link with your audience via social media platforms you can't stand out in a cut-throat industry. Once you create a good link with your audience you can discuss various aspects related to your education plan with the right people. Don't try to reach a wide audience initially. Provide education via social media that will help them to reach their goals.
Create Your education-based Marketing Channel
A few years back when you need to reach the maximum audience you use brochures and newsletters to reach the mailbox. But with digital marketing trends, you can easily step ahead into the internet & social medium and spend immensely to target the right audience. At the same time, it is important to use the right content so that your money and time are not wasted. Your website is a perfect way to market your business and to reach the maximum number of audience.
AI to Automate Digital Marketing
When it comes to digital trends no one can ignore Artificial intelligence. The AI technology not only keeps the process user friendly but also makes it less complicated. To make a place in this competitive environment it is important to integrate AI technology in your education marketing plan. If you are not currently using Artificial intelligence in your campaigns and sequential remarketing, then you are missing out on a huge audience. This new trend in education can be used to offer personalized experiences to the students. The Artificial intelligence-powered mobile applications will not surely replace trainers but authorize them. So, it is time to connect with digital marketing-agency and start working on the process to reap benefits later.
Chatbots
The universities and colleges are continuously adopting latest technologies and it is predicted that Chatbots will become a well-known feature on the homepage of institution websites in one or another. The technology is developing at a fast pace and is certainly becoming more available to education-based institutions. We know people love mobile apps and digital platforms for interaction because of round the clock services and high-quality responses. Chatbots are playing a major role in providing complete customer support and will continue to rise further in institutions.
Digital Marketing Tools
When it comes to digital marketing trends, how can we ignore digital marketing tools? There are "n" numbers of tools that higher education based channels can use in their marketing efforts to improve customer acquisition rates. You can connect with a digital marketing agency and discuss the digital marketing tools that you can integrate into your marketing strategies such as SEO, SMO, automated email, content, SEO site crawlers, social media scheduling tools, and many more. .
Voice Search
Last in the list, but not least, according to market reports, more than 20% of mobile searches on Google are done through voice search options. To make your higher education process a powerful one by the end of 2020, you need to add voice recognition digital trends in your plan. The voice search percentage will boost up to 50% in the upcoming years.
As we know, social media giants like Facebook is a key player in the search game and has developed voice recognition technology at a fast rate. You can now find all the details on Facebook via Voice assistant. However, this trend will provide you with accurate information and further will strengthen online search competition in 2020 with universities having to make sure that their university website ranks remarkably well in the search engine rankings to gain from the technology. Voice assistant will be an important part of the student journey and the colleges and institutions need to be prepared and optimized for the same.
Conclusion:
In a nutshell, we can say that the above listed higher education based trends are both digital and technological. The technology and digital trends in higher education are becoming more delicate and human-based, but the means to make the process more genuine is relying on automation and new technology. In the upcoming years, we will see a change in the education system pattern. Certainly, the marketing practices will remain the same but in upcoming years we'll also see some newly budding digital and technological trends come to the border.