Implementing the search engine optimisation strategies is not sufficient for getting you on first page of the search results of Google.
With and effective SEO plan there are good chances that it is not working properly just like you hoped.
There're various reasons because of which your SEO strategies might fail in getting you the coveted first page.
Below are some of the most common mistakes which you need to avoid:
1. You are not choosing the right keywords
Stating the best keyword for your business may be a little difficult, especially when you are working in a populated category.
Some of the most common keyword related mistakes include employing the single word keywords in place of the long tail keywords hoping to be noticed employing the popular keyword and targeting the keywords which are specific or not specific.
To give you the clear picture for "Trademark" searches, you can see that Google provided different results and not pretty sure that whether a person is looking for trademark agent, trademark services OR only wants to collect some information for trademark.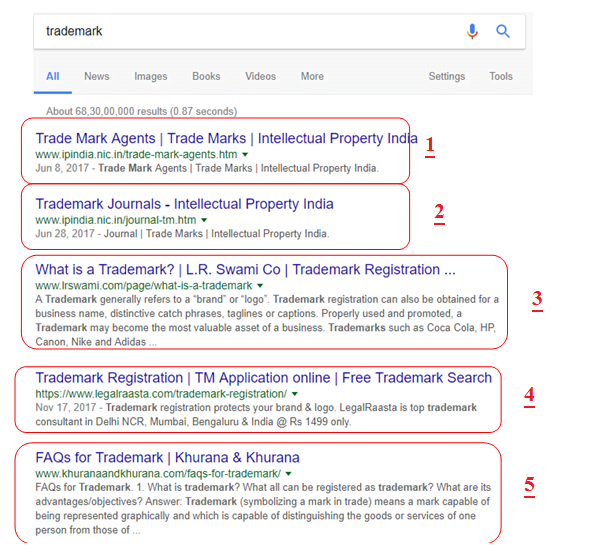 So if you notice the results here, it's clear that unless you're having a big brand company at the international level, it is really tough to get into the first page of Google search results.
You should choose the keywords which are specific for describing your business well but sufficiently broad that they would be typed in the search bar.
2. You are not employing the digital marketing tool
The digital marketing tool helps you in seeing what's working for you and what is not so that you know where are your strategies strong and where you need assistance. Here are list of top free digital marketing tools that would help for any webmasters to run a successful campaign:
Google Trends
Google Keywords Planner
Google Analytics
Ahrefs
Similar Web
Opensite Explorer by Moz
Majestic SEO
Google Webmaster
SEMrush
SEO Profiler
Everything from goal trackers to analytic trackers fall under data visualisation tool categories and all are important when you wish to see all your SEO efforts to succeed.
In case you're just measuring success of all your SEO strategies through a rise in your business, you might not realise the results that you are anticipating. Optimising the content of the website takes some time, efforts as well as continuous improvements. Treating SEO as one time project would just do this much and it is quite less.
An introduction to networking courses would offer you a competitive advantage required to fully grasping any kind of server related problem flagged on the website of your business. You should not let your efforts fail as you are not adjusting and adapting.
3. You are not targeting the right customers
Your SEO strategies need to keep revolving around what the customers or the potential customers look for while they require your products or services. In case you do not understand your customers, your SEO strategies would definitely fail.
Targeting wrong audience would not enhance your business even when your SEO strategies put you at the top on results of the search engines. Similarly, if you aren't appearing in results of the search engine, people searching for your organisation would not be able to look for you.
Take your time for understanding the various factors in getting right customers for your site. An old customer would not search the internet the similar way that a teenager would. Your keywords should represent the correct audience that brings you good business.
Getting right SEO strategies takes the method of trial and error. With a good amount of attention and less adjusting, you would be able to find your own way towards the very first page of the results of the search engine.